Figure Skating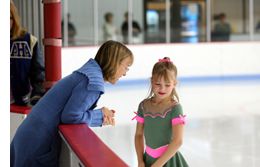 Our figure skating program proudly brings the benefits of Health, Life and Disability Insurance to the members of the Professional Skating Industry. Insurance is a beneficial tool that provides security and protection to your family and loved ones. Chizmark Larson has been in business for over 50 years and represents only those companies that demonstrate the highest ratings in financial strength and claim paying ability.

Chizmark-Larson provides the following Products:
• Health Insurance
• Life Insurance
• Disability Insurance
• Long Term Care Insurance
Many figure skating professionals are self-employed and do not receive company benefits which typically include insurance products.
At Chizmark Larson Agency we understand the necessity and piece of mind these products bring to individuals and families. We are pleased to be assisting professionals within the figure skating industry with these valuable insurance products.

Depending upon the type of policy you have, insurance can provide the following benefits:
• Medical Expense Protection
• Long Term Care Expense Protection
• Disability Income Protection
• Tax Free Death Benefits


If you would like additional information or to obtain quotes, click on the Request A Quote Link or contact our office at:815-725-6527.